With the aim of streamlining their services and ensuring minimum costs with maximum efficiency, many organisations are choosing to work with one professional agency instead of several providers. That's why, increasingly, the facilities and cleaning service companies are taking the centre stage. At Kingdom, we have fine multi-disciplinary teams that will help you focus on the core business while we manage your facilities for you. Our parent company, Kingdom Services Group Ltd, UK is an accredited provider of facilities management solutions and boasts a pompous list of various high-profile clients from several demanding sectors of business.
Kingdom India has been staffed with experts who can deliver complete solutions that are tailored to your business requirements. Driven by passion and dedication, our personnel work in partnership with you to offer unique yet practical solutions. When you use our services, you'll find that our solutions are in line with the fundamental aims of every business – containing costs, improving operations and promoting best practices across the organisation.
Every cleaning service company counts on its people to represent their organisation. At Kingdom, we secure, deploy and retain only those with the maximum potential to showcase the high standards of our brand. We also offer our colleagues comprehensive training so that they blend into your sector easily. Some bespoke training sessions also tend to focus on your industry's key issues and other criteria that are most relevant to you.
Our facilities management services include solutions for concierge & reception, mechanical and engineering tasks, cleaning & hygiene and other support services. We want all our clients to be able to access and get support from our integrated management solutions. Which is why you have a single, direct and secure point of contact who will keep you regularly updated, allowing you to focus on other important matters. Choose Kingdom India to manage your facilities and watch your business improve.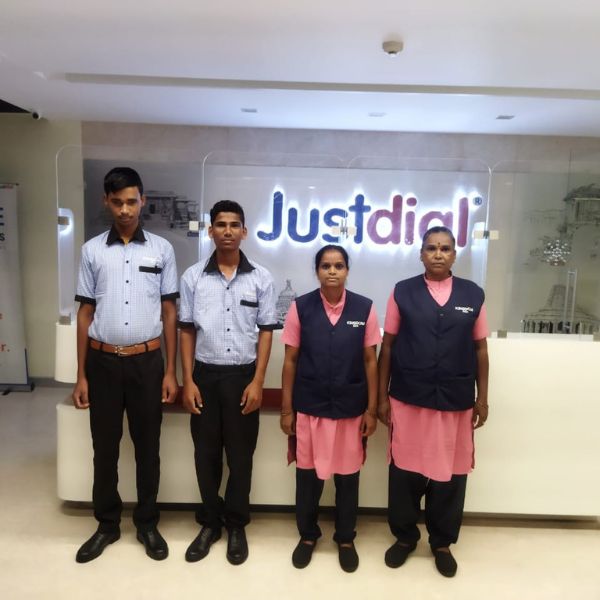 Cleaning & Hygiene
Our hygiene and cleaning service company's services are often led by an experienced supervisor who will commit to employing skilled persons, modern technologies as well as new products to ensure your clean premises reflect an organised professional business We consider your requirements before beginning work and strive to deliver high standards of hygiene irrespective of how challenging your environment might be.
Support Services
Apart from cleaning, concierge, mechanical & engineering management, Kingdom India offers various other services for your facilities. We have chambermaid services, removal of graffiti/chewing gum, consumable & hygiene supply, grounds maintenance, waste management, helpdesk and services of handymen, pest control, and porters. The list is exhaustive, but solutions are tailored to your needs.